Today we dissect the official DVSA guide to taking your ADI part 1, which is the theory test. It is important to read up on as much information as possible so that you reduce the chance of failing and slowing down your progress. This information is really useful for anybody who has started there ADI training or somebody who is thinking about becoming a qualified driving instructor.
This information is really useful for anybody who has started there ADI training or somebody who is thinking about becoming a qualified driving instructor.
There are 3 parts to the ADI qualification:-
A computer based theory test
A practical test of your driving ability
A practical test of ability to instruct learners
In order to become a fully qualified driving instructor, you must complete each part in this order.
Once you have passed your theory test you have 2 years to complete the other 2 sections. If you fail to complete the other 2 sections within this period you will have to start over from the beginning passing each exam again.  
You are allowed to take the ADI theory test as many times as you like, however, you only get a maximum of 3 attempts for each of the practical tests within the 2 year qualification period.  
The DVLA recommends that you complete your driving instructor training with an organisation like 4 Wheelz that specialises in this type of training.
This is because the qualifying process is not easy and the pass rates are low.
You must be prepared to have an advance level criminal records check. You will not be able to take your ADI theory test until you have permission from the ADI register.  
On the day of your driving instructor theory test, you must follow the advice on the letter of appointment, and arrive at your allocated test centre in plenty of time. Being early for your test will help you stay calm and focused.
You must make sure that you have all the relevant documentation with you. From the 8th of June 2015, you will only need to bring your photocard licence.
Please be aware that If you do not bring the correct documentation your test will be cancelled and you will lose your fee.
The ADI theory test for a prospective driving instructor requires a much more comprehensive and in-depth knowledge of that expected of a learner driver.
The test is carried out in 2 parts:-
A multiple choice theory test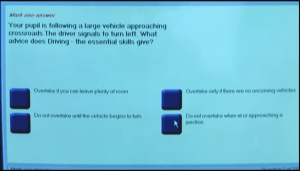 A hazard perception test
You need to pass both parts in order to progress to the next stage of your instructor training.
Before your test begins you will be given instructions on how you must proceed. You also have the option of working through a 15-minute practice session to get used to the system.
For the multiple choice driving instructor theory test, you have up to 90 minutes to answer 100 questions covering a variety of different topics. 
This includes the following:-
Road procedures
Traffic signs and signals
Car control
Pedestrians
Mechanical knowledge
The driving test requirements
Disabilities
Laws relating to driving and instruction technique
The pass mark for the multiple choice part of the driving instructor theory test is 85%, which is 85 questions answered correctly. However, you must reach a minimum of 80% in each of the 4 bands.
Once you have completed the multiple-choice section of the test you are able to take a 3-minute break before  the hazard perception part begins.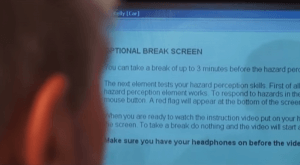 The hazard perception test lasts for about 20mins
You will be presented with a series of 14 video clips that feature recordings of everyday road scene.
In each of the 14 clips, there will be at least one scorable developing hazard, one of the clips will feature 2 scorable developing hazard.
The achieve points on this test you will need to to identify each of the scorable developing hazards at the earliest opportunity.   
The maximum you can score on each of the developing hazards is 5 points.  
The pass mark for the hazard perception is 57 out 75.
At the end of both tests, you will be given your results. You will be issued with a letter if you have successfully passed. If you have unfortunately failed you can immediately apply to take the test again.  
However if you prepare properly by studying all of the course material then there should be no reason why you shouldn't pass first time.  
To view the full video of the official DVSA part 1 theory test guide, please see below:-
https://www.youtube.com/watch?v=ldL-Mdkp-aE