Automatic Driving Lessons Birmingham & West Midlands
When it comes to your driving lessons there are two options open to you: manual driving lessons or automatic driving lessons. Opting to learn to drive in an automatic vehicle means you will need to do an automatic driving test rather than a manual test. Here at 4 Wheelz we can offer you lessons specially designed to help you learn to drive in an automatic car in preparation for your test. To find out more read on, or to book a lesson with one of our instructors click here.
What's The Difference Between Manual and Automatic?
Manual cars have a clutch, brake and accelerator. You change gears yourself using the clutch pedal and gear lever. Automatic cars have a brake and accelerator only, no clutch. The car changes gears for you, this makes learning to drive easier and generally means you will reach test standard with fewer driving lessons.
Because of the simpler driving style needed for automatic vehicles many new drivers feel that automatic driving lessons are easier while other new drivers enjoy the challenge and experience of driving a manual vehicle.
If you are in a rush to get your driving licence because of schooling, work or other reasons, you may want to consider focusing on passing your driver's test in an automatic vehicle, as most drivers find that they need fewer lessons and pass their test quickly. You can always go back at a later date and take lessons in a manual vehicle and then test again for your manual driving licence.
Book your first automatic driving lesson online now!
Gear changes
In an automatic car gears are changed automatically. As the speed increases the car will automatically change gears up and as the car slows down the gears will automatically change to an appropriate lower gear. You do not have to master the co-ordination of the clutch, gear lever and accelerator. This makes learning to drive an automatic car easier than a manual.
Manual Gear Lever
Used for selecting gears when driving. The clutch must be used when changing gear, moving off and stopping.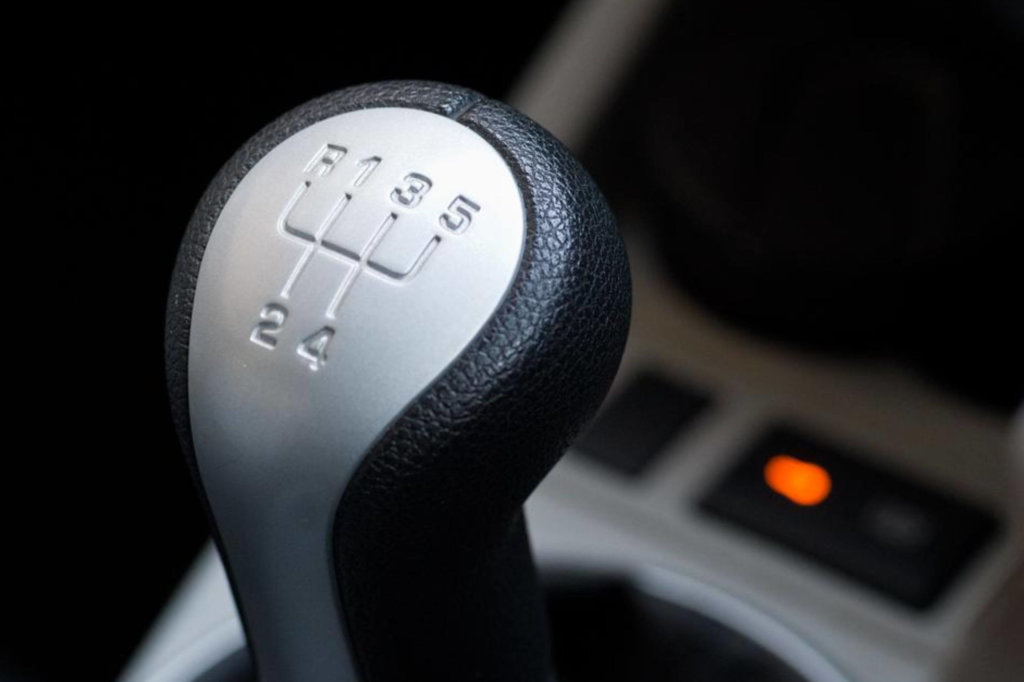 Automatic Selector
Used for selecting drive when moving off and driving. All gear changes are made for you by the automatic gearbox.
Automatic Driving Licence
When you pass your test in an automatic car you are licensed to drive automatic cars only. To drive a manual car you would have to pass another driving test in a manual car.
Manual Driving Licence
When you pass your test in a manual car you are licensed to drive both manual and automatic cars.
Your Automatic Driving Test
The procedure for taking your driving test is exactly the same, whether you're in an automatic vehicle or a manual vehicle. However, taking an automatic driving test eliminates the risk of stalling the car and any struggles you may encounter with clutch control, which is often why learner drivers opt to start their driving journey in an automatic car. Manoeuvers such as a turn in the road or a hill start, which are usually a daunting prospect in a manual car, are made much easier to handle in an automatic car due to the lack of gears and a clutch, meaning as a learner you have much less to contend with during your automatic driving test.
Can You Stall an Automatic Car?
Many new drivers are nervous when it comes to driving a manual car because of the possibility of the car stalling. This can be frustrating, intimidating and even dangerous. Many assume that an automatic car can't stall.
As long as the engine is functioning correctly and the car is being driven in a responsible manner, it should not stall. Some of the more common reasons behind an automatic car stalling include faulty sensors, a vacuum leak or problems with the intake or fuel system.
Manual Vs Automatic
Driving a manual vehicle takes a little more practice and involves a few more steps. For this reason, many new drivers prefer to learn with an automatic vehicle.
There are pros and cons to both sides. If you pass your test in a manual vehicle, your driving licence will allow you to drive both manual and automatic vehicles.
However, it might take longer for you to pass and you might need more lessons than with an automatic, making it a more expensive process.

Manual Car Pedals
Clutch, Brake & Accelerator
Automatic Car Pedals
Brake & Accelerator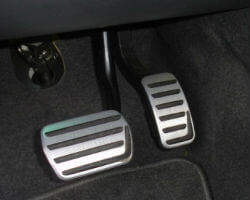 Can I Drive an Automatic Car with Manual Driving Licence?
Yes, once you pass your driving test in a manual car, you are licensed to drive both automatic and manual cars.
However, the opposite is not true. If you pass your driver's test in an automatic car, you are only licensed to drive automatic vehicles and will need to pass a separate test in a manual car in order to drive both types of vehicles.
How Long to Pass Automatic Driving Test
This will vary by person but it's a good idea to do your best and estimate the number of lessons you will need from a financial perspective.
It would be best to overestimate and have remaining funds rather than assume you'll be a fast learner and find yourself in a compromising position. On average, reports show that the average first time driver will need 45 hours professional tuition, plus private practice time.
This number could be higher or lower, depending on how much knowledge you go into your first lesson with and how much you are able to practice on your own. You should also keep in mind that it is typically more difficult to find an instructor with an automatic vehicle, meaning that it might be harder to schedule lessons and can make the entire process a bit longer than anticipated.
4 Wheelz Automatic Driving Lessons In Birmingham & Surrounding Areas
You can find an automatic driving instructor at any of the locations below:-
Birmingham: Acocks Green, Alum Rock, Aston, Bearwood, Bordesley Green, Bordesley Village, Bromford, Castle Bromwich, Castle Vale, Chelmsley Wood, City Centre, Dorridge, Druids Heath, Hall Green, Handsworth Wood, Handsworth, Harborne, Hay Mills, Hodge Hill, Kings Heath, Kingshurst, Kingstanding, Kitts Green, Ladywood, Marston Green, Maypole, Moseley, Nechells, Newtown, Oldbury, Perry Barr, Rednall, Saltley, Shard End, Sheldon, Small Heath, South Yardley, Sparkbrook, Sparkhill, Stechford, Tyseley, Ward End, Warley, Washwood Heath, Winson Green, Wythall, Yardley.
Solihull: Bickenhill, Chadwick End, Dorridge, Elmdon Heath, Olton, Shirley.
Stourbridge: Amblecote, Brierley Hill, Kingswinford, Lye, Pensnett, Quarry Bank.
The Black Country: Bilston, Black Heath, Carters Green, Castle Hill, Coseley, Cradley Heath, Dudley Port, Dudley, Gornal Wood, Halesowen, Kate's Hill, Lower Gornal, Netherton, Old Hill, Princes End, Rowley Regis, Sandwell, Sedgley, Himley, Tipton, Upper Gornal, Walsall, Wolverhampton, Wrens Nest.
4 Wheelz helped me to gain the confidence to become a safe considerate driver. I was supported when I found things difficult and pushed on as my confidence grew. My instructor in particular gave me a tremendous amount of support and enabled me not only to pass my test first time but to enjoy getting behind the wheel.Many thanks and best wishes, John.
I passed first time – very happy! Would recommend Paul to family and friends. Brilliant instructor.
Passed first time incredibly grateful. Brilliant instructor would recommend to other students. Loved the Seat.