Driving Instructor and ADI Training
For More information
Mon to Fri – from 9am until 5.30 pm
Out of hours use the contact form below
Book Your Driving Instructor Assessment Now
Mon to Fri – from 9am until 5.30 pm
Out of hours use the contact form below
Driving Instructor and ADI Training
A career as a driving instructor is an attractive prospect to many who are looking for a flexible business that they can run from home. It offers job security, with many national and local driving schools on the look out for new instructors, flexible working hours which suit your lifestyle and serious job satisfaction as you watch your pupils learn and pass their tests. But there are three tests to pass before you can become an approved driving instructor (ADI) and begin teaching. The ADI training course will prepare and guide you through these tests so you can become fully qualified.
How To Become a Driving Instructor
What You Need To Know
Before you can start training to become a driving instructor you will need to have had a Disclosure & Barring Service (DBS) obtained through the Driver & Vehicle Standards Agency's (DVSA) contractor, Capita Recruitment Vetting Service (CRVS).
Before you can begin the testing process to become an ADI you must have held a full licence for three years (a foreign or automatic licence can count towards the three years). You must also be able to read a vehicle number plate from a minimum of 27.5 metres (90 feet) and pass the DVSA three-part driving instructor examinations – which we will go through in more detail below.
If your licence has penalty points (generally a maximum of four) it is unlikely to affect your application and those points already spent will not count. But you must not have been disqualified from driving during the last four years, not even for one day.
ADI
H is so professional and gave me all the tools and confidence needed to pass all 3 parts to become an ADI.
The team (especially during the pandemic) have been really supportive and chose to scrap franchise during.
To begin with the franchise is already a decent price compared to other schools, I had to call the
team to hold pupils as it was getting too busy while training for part3!
Looking forward to working with 4Wheelz for the foreseeable future!
Mark Fletcher ADI - Redditch
ADI
I have had an excellent experience whilst training at 4wheelz.
Teaching, guidance and support is to a very high standard. Thorough
delivery of topics to ensure you gain skills needed to become a
driving instructor. Price is very reasonable. Thanks to H expertise I
was able to achieve my goals.
Sayed Pirouzi ADI - Birmingham
Driving Instructor ADI Tests
In order to become a driving instructor, there are three rigorous ADI tests which applicants are put through. The driving instructor training course is designed to help you pass these tests providing you with all of the knowledge and materials you need – it's why we have a 93% pass rate.
The ADI tests are broken into three parts:
The first test within your ADI training is in two parts – the theory test and a hazard perception test. The theory test consists of 100 multiple choice questions, within the test there are four bands which each require a pass-mark of 80%. You have 1½ hours to complete the test and need an overall pass mark of 85% for this part of the test. The hazard perception test consists of 14 video clips and the pass mark is 57 out of a possible 75. You are given a further 20 minutes to complete the hazard perception. The cost to sit both parts of the test is £81 and can be taken as many times as necessary. The training covers the theory and hazard perception section of the ADI tests via online zoom training, DVSA theory test and hazard perception kit for approved driving instructors and reading materials.
The second test is a driving and eyesight test which is conducted by a Driver & Vehicle Standards Agency Supervising Examiner and lasts approximately one hour. You will be required to demonstrate your ability to drive and manoeuvre the car safely and under control. To pass, you must not commit more than six minor or one serious fault. The cost to take this test is £111 and can be taken up to three times. We offer tailored training packages for part two of your ADI test, designed to work around your other work commitments.
The aim of the Part 3 exam is to assess your ability to instruct and whether your instruction helps a person to learn in an effective way.
The Part 3 exam will be conducted with a driving examiner observing you delivering a normal 1 hour lesson. You'll be marked, amongst other things, on Lesson Planning, Risk Management and Teaching & Learning Strategies. The cost to take this test is £111 and can be taken up to three times. Again, our flexible ADI training is designed to fit around your other work commitments. ADI part 3 training course includes in-car one to one tuition with a DVSA ORDIT registered trainer and online zoom training at no extra cost.
You must be of good character, with no current motoring or non-motoring convictions as these would be taken into account.
Premier ADI Full Training Course
The 4 Wheelz premier training course will cover everything you need to know to pass parts 1, 2 and 3 of your ADI tests. The DVSA recommended training books, an official DVSA theory test and hazard perception kit, full in-car and zoom webinar training with a DVSA ORDIT registered trainer, plus a complete support network.
Part 1 - ADI online zoom training using the latest training methods (DVSA ORDIT registered tutor)
Part 2 - in-car training with a DVSA ORDIT registered trainer.
Part 3 - ADI in-car training with a DVSA ORDIT registered trainer.
Easy Payment Options
Call Now 0333 444 1064 limited places available
Pay As You Go
If you prefer the pay as you go, approach 4 Wheelz also offer two-hour training sessions. Pay for each two-hour training session when you book, offering a simple way to spread the cost of your driving instructor training.
Fast Track
ADI Part 3 fast track training available (call 0333 444 1064 for details)
ADI Standards Check Training
The ADI Standards Check, which happen every four years once you qualify, are an essential part of driving instructor training. Find out more about our ADI standards check training here.
Why Choose 4 Wheelz ADI Training?
There are plenty of courses available to those wishing to train as a driving instructor, but if you're in the West Midlands we think our course offers the most for you, and here's why:
Our ADI course has an incredible 88% success rate
We use official DVSA recognised trainers
Flexible training courses to suit your schedule
Guaranteed position in the 4 Wheelz team once you're qualified
Work in your local area on days and times that suit your needs
Your opportunity to build a flexible, rewarding business
Driving Instructor Assessment
If you're thinking about a career as a driving instructor, but want to see first-hand whether it is right for you then the 4 Wheelz assessment is perfect for you. Our assessment allows you to:
See the type of questions you will need to answer for your ADI part one test
Have your driving skills professionally evaluated for your ADI part two test
Learn the first basic steps of giving instruction for the ADI part three test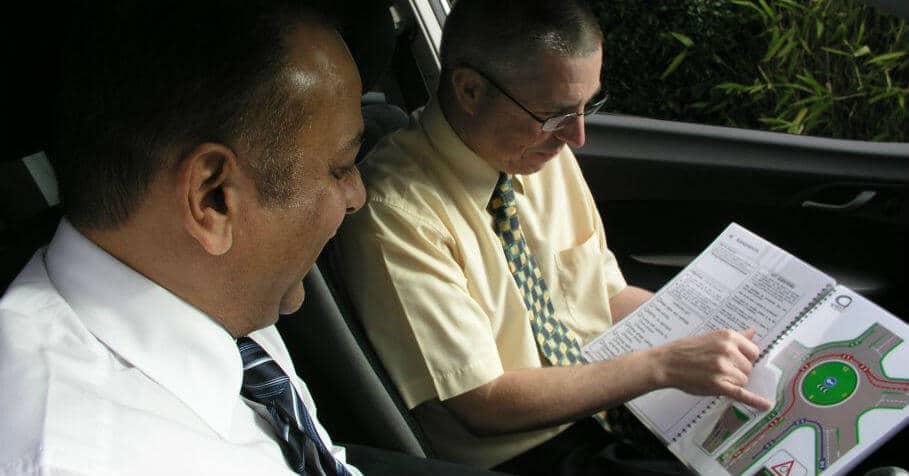 Becoming a driving instructor requires commitment and is not something you should rush into. We guarantee no pressure from us following your assessment, go home to talk to friends and family before making your decision.
Call 0333 444 1064 to find out more
Driving Instructor Training in Birmingham, Wolverhampton & West Midlands
The demand for professional qualified driving instructors throughout the West Midlands is constant. Joining driving instructor training with 4 Wheelz means you will have a guaranteed job with the team on passing your ADI. We always have an opportunity for those who are willing to put in the work, but we are particularly looking for ADI trainees in the following areas:
- Birmingham
- Cannock
- Dudley
- Solihull
- Sutton Coldfield
- Wolverhampton
Instructor trainers are familiar with each of these areas and the many possible ADI test routes you could experience, such as Acocks Green High Street in Birmingham where you'll have to deal with many different types of pedestrian crossings, the Ring Road in Wolverhampton which requires forward planning and multi-lane junctions, or the orbital road network of the A5, M6 Toll road, A462 and the A34 in Cannock. 4 Wheelz are constantly growing to meet demand, just recently we experience a significant business growth of over 34% for driving lessons in Wolverhampton and surrounding Black Country areas.
Birmingham ADI Test Centres
Theory Test Centres
38 Dale End,
Birmingham,
B4 7NJ
Four Oaks House,
160 Lichfield Road,
Sutton Coldfield,
B74 2TZ
Driving Test Centre (ADI)
Clay Lane,
South Yardley,
Birmingham,
B26 1EA
Wolverhampton ADI Test Centres
Practical ADI Test Centre
Spring Road
Saturn Industrial Estate
Ettingshall
Wolverhampton
WV4 6JX
ADI Theory Test Centre
2nd Floor, Derwent House,
42-46 Waterloo Road
Wolverhampton
WV1 4XB
Nearest theory test centre
2nd Floor, Derwent House,
42-46 Waterloo Road
Wolverhampton
WV1 4XB
Call 0845 468 1808 For More Information
I found 4 Wheelz most reliable, who do what they advertise 100% & beyond. H was there for me when ever I needed to ask anything or go through something again. All the staff are very friendly & helpful, I know I wouldn't have achieved my goal as an ADI without their full support.
'I decided to use 4 Wheelz after they were recommended to me after my previous training school. 4Wheelz part 3 training was suited to my needs. My instructor H was very thorough at the same time very entertaining, which made my learning enjoyable. 4 Wheelz were very flexible in training me near my home'
'Having trained with a different company I failed my first attempt. I was left with no confidence, no self esteem and no will power to carry on. H the hero was recommended to me. Thank god for Mr H Surti he has made a 200% difference to me and my confidence, the knowledge and skills that I have gained are amazing. Being left broken I feel H has put me back together again. This course is difficult enough make it easy and go with 4Wheelz.'
'After passing parts 1 & 2 with 4 Wheelz, I found the training for part 3 to be at the same excellent standard. My training officer H fully supported me as he guided me through all the training levels, giving me the confidence to pass part 3. Many thanks'
'Compared to the company I started my instructor training with, 4 Wheelz are head and shoulders above them. I felt I left each session having achieved something and not frustrated as was my previous experience. H's attention to detail is second to none and he left no stone unturned ensuring I went for my part 3 test fully prepared. I can thank H and all the 4 Wheelz staff for getting me to an ADI'
'Faultless training & support I received from H & Barry for all 3 parts to achieve my ADI qualification. Thorough & properly structured training allowed me to track my progress. Both H & Barry were there for anything I needed as were all the staff at 4 wheelz. I would not hesitate to recommend anyone who wishes to become an ADI or simply learn to drive to 4 Wheelz.
Thank you very much for the Zoom training session last Friday.
I found the session very interesting and informative. It was actually a lot more detailed than I expected. Before the session, I believed I knew enough in preparation for the Part 1 test, however the session raised my awareness to what I didn't know and helped me fill the gaps.
I really enjoyed the hazard perception element of the training and I was so pleased with the outcome of my participation in the short clips exercise. This really boosted my confidence as I had been struggling with hazard perception.
On a final note I'd just like to say your delivery of the session is perfect.  Your relaxed and informal style is very good and encouraging. I imagine it must be difficult to train virtually but you really do it so well. Keep up the good work!
Thank you once again and I look forward to speaking to you soon.
'4 Wheelz are a friendly company who are prepared to help in any way. The standard of training offered is very high and is structured in a way that will help everyone individually. H is a fantastic trainer who is always pushing you to give 100% every session, which at the end of my training proved invaluable in achieving my end goal. I passed part 1,2 and 3 first time which is all down to the thorough yet relaxed training methods.'
'Once I decided to become a driving instructor I visited a few driving schools to see what their training set ups were. As soon as I had seen H I new that 4 Wheelz was the company I wanted to learn with. My training sessions have always been well structured, enjoyable and flexible to suit my needs. I found the recording of the in-car sessions particularly useful. I would like to thank everyone at 4 Wheelz for all their support especially Richard and H for their expertise. I wouldn't have passed without 4 Wheelz and I look forward to a new career with them. '
'When looking at the training opportunities available from various companies, 4 Wheelz stood out from the crowd. They offered a professional and personal service. They were supportive right from the enquiry stage and have continued to support me in a professional yet friendly manner throughout the training process. The training program is excellent.'