Introducing the 4Wheelz Driving Test Simulator Online
It is with great pride we can unveil our online driving test simulator. RouteMate lets you take a virtual driving test through areas of the West Midlands, which are commonly used by examiners so you can practice driving tests online before the big event.
RouteMate is designed for those taking driving lessons in Birmingham and the surrounding areas. So far our virtual test routes covered are:
…And we're planning on adding more
What is a driving test simulator?
A driving test simulator is an online tool, usually free like ours, which helps those learning to drive prepare for their test. Your driving test is something you've been building up to for months, unless you've just done an intensive driving course, so it's only natural to feel nervous. Online test simulators are the perfect way to help calm those nerves and mentally prepare you for test day. RouteMate has the added bonus of being focused on a local area, perfect for those of you learning to drive in Birmingham.
How to use to 4 Wheelz online driving test simulator
To start your virtual driving test experience simply click on the area you'd like to explore from the list above. We've given you a handy description of each area and the challenges you can expect to come across on the route.
We've mapped out each of the routes for the area, which can easily be changed if there are several routes using the dropdown as shown below.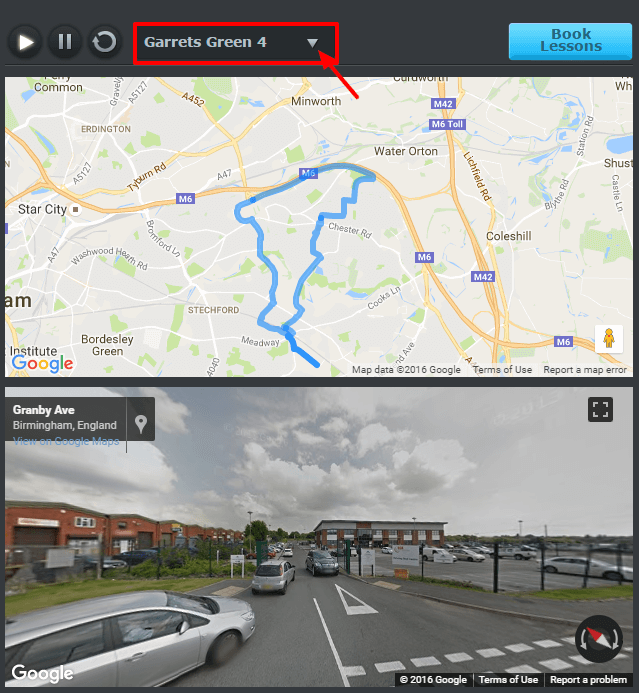 A video playing below the map takes you on a virtual road trip through the course, helping you prepare for the big day by mapping out junctions, different pedestrian crossings and giving you a feel for the amount of traffic you may encounter on the day.
The benefits of using an online driving test simulator
When driving simulators appeared on the scene the craze for the online test swept the nation. There are so many benefits to using an online driving test simulator it's easy to see why they raced ahead in popularity. They allow you to practice in the safety of your own home. There's no risk of an accident or something going wrong, which is why so many of us use these types of tools to learn and build our own confidence for our driving test.
They provide a great opportunity to mentally prepare yourself for the task ahead. Local driving test simulators like RouteMate offer a chance to get familiar with the many possible routes your test examiner could take you on, instantly making you feel more relaxed and at ease.
So what are you waiting for? Whether you're looking for ways to prepare for your driving test or you're thinking about booking your first driving lesson, RouteMate is the perfect tool to help you get the upperhand for your driving test.