ADI Part 1 Theory & Hazard Perception
I would without doubt recommend 4Wheelz to anyone considering ADI training. They provided all the material needed to pass the part 1 exam, but more importantly the one to one in-class training & the opportunity to take a mock exam under test conditions ensured I passed first time.
Louise Griffiths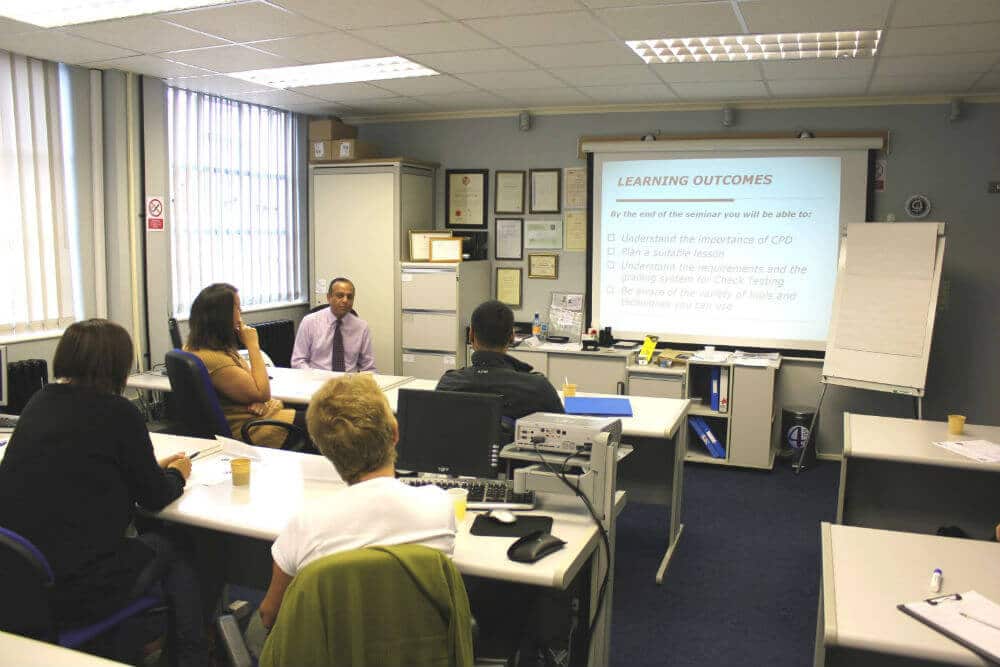 Tailored Training Packages
We can often tailor your driving instructor training package to work around your current commitments.
Your part one training will include:-
In Class Training (In our ORDIT registered premises)
Classroom training with an ORDIT registered trainer for the Theoretical Test and the Hazard Perception Test. You can even take a computer based Mock Theory and Hazard Perception Test to see if you're ready for the real test.
Driving Test Success – CD Rom
Containing the entire official DVSA Question bank for Approved Driving Instructors. Prepare for the Hazard Perception Test using the eight official DVSA sample video clips. Practice the ADI Theory Test and the Hazard Perception Test on your home computer.
ADI Question Bank
Booklet containing all of the questions and answers for the part one theoretical test.
Driving The Essential Skills
This book has long been recognised as the definitive reference for all motorists and Driving Instructors. This new edition includes the very latest in legislation, roads, vehicles, driving techniques and procedures.
Know Your Traffic Signs
It illustrates and explains most of the current signs a road user is likely to come across.
The Highway Code
Essential reading for everyone. Its rules apply to all road users. Many of the rules in the code are legal requirements.
The Official DVSA Guide To Learning To Drive
This new fully updated version contains the officially recommended syllabus for learning to drive.
The Motor Car Mechanical Principles
Excellent reading for anyone studying for the ADI part one examination.
Advice
Help and advice is always available within normal office hours from your ORDIT Registered Training Officer by phone or in person.
The training is excellent and explained really well. Everyone is really friendly, my trainer H is very patient and helpful. I would recommend 4 Wheelz to anyone wanting to become a driving instructor…
Sarah Schlicht
I just wanted to write this note to thank you for all of the work you did with me over the past few months, and to let you know that I successfully passed my part 3. I have learned more in my 5 hours training with you H and Mark than I did with completing my whole course with ***. 4 Wheelz staff are very friendly and they make you feel welcome, they are always there if you need any help or advice. Thank you H and Mark again for helping me and building my confidence. I appreciate the time you took.
Sally Kaur ADI
ADI Part 2 Test Of Driving Ability
After shopping around for a reputable training establishment I was recommended by a friend to try 4Wheelz. I wasn't disappointed, from the moment I walked into their offices you could tell this was a professional business with excellent in-house training facilities. Thanks to Barry Vaughan for providing excellent training in order to pass my part 2.
Darran Banks
Tailored Training Packages
We can often tailor your training package to work around your current commitments.
Your part two training will include:-
Guide To The Test Of Driving Ability
The part two guide is written by Dr John Wells. The guide is very well written and is a must for anyone attempting to pass the DVSA part two test of driving ability.
The Driving Instructors Handbook
This book is recommended by the Driving & Vehicle Standards Agency for those studying for the Approved Instructors qualifying examination.
Practical Training – In-car training with DVD recording and playback
Your Training Officer will explain (and sometimes demonstrate) everything from shutting the car door to driving on a motorway.
Your ADI Part 2 Training Will Include:
Precautions On Entering The Car (Door, seat, steering, seat belt, mirrors, etc)
Use Of Controls (Accelerator, footbrake, clutch, gears etc)
Moving Off (On the level / uphill / down hill)
Stopping (Normal stops, emergency stops)
Reversing (To the left / right)
Turn In The Road (Turn the car through 180 degrees using forward & reverse gears)
Reverse Park (Parallel Park / Bay Parking)
Hazard Recognition (Junctions, pedestrians, drivers, cyclists, animals, etc)
Defensive Driving (Driving safely & courteously)
Proper Care In The Use Of Speed
Take Prompt And Appropriate Action (Traffic signs, road markings, other road users, etc)
Make Progress
Position The Vehicle Correctly During Normal Driving
To Meet & Cross The Path Of Other Vehicles
Overtaking
Single Carriageways
Dual Carriageways
One-Way Roads
Motorways, Etc. Etc…
Classroom Training (In our DVSA inspected premises)
This is where you will receive extra training on the finer points of road procedure. Meet other Trainees, exchange notes and arrange optional practice sessions.
Extra Training
Classroom & in-car training in-between tests at no extra cost.
Advice
Help and advice are always available during normal office hours from your ORDIT Registered Training Officer by phone or in person.
I recently passed the part 3 qualifying test to become an ADI, this would not have happened without the terrific help and support I received from H and all the other guys at 4 Wheelz.
Kevin James ADI
I am so glad I chose 4Wheelz for my ADI part 2 training. My trainer put me at ease right from the start. Having passed my driving test 17 years ago, there were certain aspects that needed tidying up! H was patient, friendly & always really informative. Despite my hesitancy, H recommended I put in for my test – I passed first Time.
Louise Griffiths
ADI Part 3 Test Of Instructional Ability
After researching many driving schools one name kept popping up (4 Wheelz). Finally I asked an examiner at my local test centre who also recommended 4 Wheelz, at this point my mind was made up as an examiner is not biased and it is a lot of money to part with. Yes I made the right choice! Firstly their instructors are first rate with a wealth of knowledge on tap. Don't expect an easy ride though you do have to put some effort in to succeed. H Surti (Senior Training Officer) is a true professional and helped me attain grades 5 and 6 which is almost top marks. My advice to PDIs would be to work hard, listen to your instructor and take on board all the comments positive + negative but most of all be yourself even on the tests, it really helps. Examiners want to see genuine hard working PDIs not pre-programmed robots. Thanks once again to H and Richard, could not have done it without you guys. Thanks.
Steven Hickman ADI
Tailored Training Packages
We can often tailor your training package to work around your current commitments.
Your part three training will include:-
Guide To The Test Of Instructional Ability
The part three guide written by Dr John Wells, is excellent and will answer most trainees questions regarding the part three exam. Topics covered include Preparing for the test , Terminology, Lesson planning plus question and answer technique.
'The manual helps trainees select the relevant information for their lessons without reference to copious notes. Trainees may use the manual to bring their lesson contents to standard, overcoming those initial nerves with effective lesson preparation. The key question selections will help improve fluency and confidence' Extract taken from the manual. Written by Dr. John M. Wells & Des Cummins. (second edition)
Practical Training
Our ADI part 3 course is delivered with in-car training with DVD recording and playback. Which means after your lesson has ended you can watch it back to see where you need to further improve on. 
You will receive in-car training with a 4 Wheelz Ordit Registered Training Officer.
You Will Be Taught To Instruct The Following:
Explaining the controls of the vehicle, including the use of dual controls
Moving off
Making normal stops
Reversing and while doing so entering limited openings to the right or to the left
Turning to face the opposite direction, using forward and reverse gears
Parking close to the kerb, using forward and reverse gears
Using mirrors and explaining how to make an emergency stop
Approaching and turning corners
Judging speed and making normal progress
Road positioning
Dealing with road junctions
Dealing with crossroads
Dealing with pedestrian crossings
Ability to inspire confidence in pupil
Giving correct signals
Comprehension of traffic signs, including road markings and traffic control signals
Method, clarity, adequacy and correctness of instruction
Observation and correction of driving errors committed by pupils and general manner
Manner, patience and tact in dealing with pupil
Meeting, crossing the path, overtaking and allowing adequate clearance for other vehicles and other road users
Classroom Training

You will be trained at your own pace on lesson structure and teaching techniques. The training is in a modern relaxed environment where you can exchange ideas with other trainees.

Extra Training

Classroom & in-car training in-between tests at no extra cost.

Advice

Help and advice are always available within normal office hours from your ORDIT Registered Training Officer by phone or in person.
PDI Licence
Once you have completed a minimum of 40 hours part3 training you can apply for a trainee. The 40 hours training must be completed within a 6 months period preceding the start of the trainee licence. Start earning money & gain experience for your part 3 exam. 'It is not essential to have a licence in order to prepare for the part 3 examination, but it is an option that is available to assist in preparing for the examination' Quote taken from the DVSA Your Road to becoming an Approved Driving Instructor (car) ADI 14 06/09 page 19.
We Have ORDIT Registered Driving Instructor Trainers In These & Surround Areas: Birmingham, Bromsgrove, Cannock, Cheltenham, Dudley, Halesowen, Redditch, Solihull, Stafford, Stourbridge, Walsall, West Bromwich, Wolverhampton, Worcester..

4 Wheelz offer nationally-recognised, value for money training programmes with high-quality instruction, practical self-study materials, excellent support, fully-qualified expert trainers, and an outstanding record of success. Not only this but once you're fully qualified we offer you the chance to be your own boos with our driving school franchise.
Hard To Believe?
Have a look at the graph below and compare the 4 Wheelz ADI pass rates to the national pass rates…
4 Wheelz

98%

National Average

51%
4 Wheelz

93%

National Average

53%
4 Wheelz

88%

National Average

30%
Figures based results from 4 Wheelz trainess between Januray 2005 & November 2017.
Ordit Inspectors Comments Taken From Inspection Reports
INSPECTION 04/03/2014
"Excellent training establishment"
INSPECTION 21/12/2011
"Excellent session, well done"
"Excellent establishment and facilities. Thank you"
INSPECTION 18/01/2010
"Good range of up to date reference material"
"Main training equipment is PC based"
"Training reports are clear, providing good information to trainee on level of performance, with targets set for next training session"
INSPECTION 17/12/2007
"Computer-based projector used to deliver training"
"A wide range of publications all current are provided to trainees along with DVD/CD-ROM training aids."
"Comprehensive training records are maintained"
"Premises interior is modern and very well equipped and has excellent facilities"
"Immediately on entering the building, a professional image is evident"
"Lesson summary included objectives for next session and covered other areas of development"
INSPECTION 18/06/2006
"A very professional set-up"
"Well structured session"
"Overall good performance"